A Day on California Rangelands. The Summit Rangeland Tours showcased the many values of these resources and how the ranchers who steward them help address climate, conservation and biodiversity goals. Many thanks to the local hosts, presenters and organizers dedicated to healthy rangelands and ranching. Thank you, Summit Sponsors and California Cattle Council. Contact CRCC to suggest future tours.
---
FAMILY DAY ON LASSEN COUNTY RANCHES, April 30th
Participants visited with the Jack Hanson and Todd Swickard Families that have operated for generations. We discussed how the ranchers manage and market their cattle and how they provide significant resource stewardship on their private and public lands. Local sponsors were Lassen County Cattlemen and Lassen County Farm Bureau.
" I did not know such beautiful valleys existed such a short way from home (Reno). Seeing the gentle handling and excellent stewardship was inspiring. It was a wonderful opportunity to spend time talking about rangeland management and ranching in a spectacular setting. A visit to the nearby wildlife preserve convinced me once again of the value of grazing for maintaining ecosystem health and biodiversity. Our hosts were so gracious, opening their home to us and answering all our questions. We were so lucky to have quality time with Jack, Darcy, Bre, and Todd. And some happy cows," says Lynn Huntsinger. And host, Jack Hanson states, "It was so educational and fun!"
---
BOBCAT RANCH, Yolo County, April 27
Bobcat Ranch is the flagship ranch for Audubon's Conservation Ranching Initiative (ACR). initiative.
The California Rangeland Conservation Coalition co-hosted a tour of Bobcat Ranch in Yolo County featuring Audubon's Conservation Ranching (ACR) Program. ACR provides market incentives and technical assistance for ranchers to manage their land for improved bird habitat. Audubon California acquired the 6,800-acreBobcat Ranch in 2007, as part of its ongoing effort to support and encourage the conservation and restoration of Blue Oak Woodlands and rangelands in California. Bobcat Ranch hosts a rich blend of important habitats, including Blue Oak Woodland, native perennial grassland, annual grassland, seasonal wetland, and Chaparral. The ranch is home to a variety of bird species, including Lark Sparrow, Grasshopper Sparrow, Golden Eagle, Lewis's Woodpecker, Oak Titmouse, Burrowing Owl, Nuttall's Woodpecker and Yellow-billed Magpie. Mammal species include Bobcat, Mountain Lion, Black-tailed Deer, American Badger and Black Bear.
ACR staff described the history goals, features and current status of the ACR Program in the US and California. Grazing lessee, Adam Cline and Ranch Manager, Dash Weidhofer showcased several management practices that have been implemented. This includes tree plantings, rotational grazing and wildlife-friendly water infrastructure. They highlighted the need for technical and financial assistance to make ranching and conservation work. Attendees included ranchers, staff from land trusts and state agencies. A walking tour was followed by a discussion about policies and programs to support conservation ranching.
---
SACRAMENTO / SAN JOAQUIN COUNTIES. April 27
I had a wonderful time attending California Rangeland Conservation Coalition's Rangeland Tour, of two easement properties in San Joaquin and Sacramento counties. Coming from an organization that also works to protect our natural resources and landscapes, it was a great learning experience to see the efforts of other organizations who share the same mission of California Farmland Trust to conserve ecosystems and habitat. Thank you, CRCC, for putting this together and giving land protection advocates the opportunity to rally together and tour these valuable properties.… Adriana Toste, communications associate at California Farmland Trust
April 27th. The California Rangeland Conservation Coalition along with partners including University of California Cooperative Extension, Westervelt Ecological Services and San Joaquin Council of Government hosted a tour of two working ranches with easements. Both properties are actively managed with cattle grazing by a leasee to meet the goals of the easement. Westervelt's easement also include creation of vernal pools to offset a housing development. Tour attendees were surprised by the amount of time taken to ensure the success of the created vernal pools. While this year none of the pools were wet, we were able to identify vernal pool flora in the created pools. The pools are only about two years old, and the hope is that they will continue to increase vernal pool flora and fauna as they age. Surveys to document fauna will be conducted in the future when pools are inundated. The leasee works with Westervelt to ensure his grazing management is in line with the goals of the property. Westervelt appreciates his ability to move cattle off the preserve in drought years to allow for more seed production and colonizing of vernal pools.
The San Joaquin County Habitat Conservation Plan (HCP) works with the leasee on the county owned property to ensure grazing is compatible with their goals as well. For the most part, the leasee is allowed to graze as they see fit to manage the property. While there are vernal pools on the ranch, that is not the primary reason of the easement. Swainson Hawk habitat is the main driver for the conservation easement. Since this property is owned by the county, the ability to graze it creates an opportunity for local ranchers. The HCP has over 97 species covered in the plan. The plan also has the county divided into regions, with each project creating an impact, needing to preserve similar habitat in the same region. The plan currently has over 910,000 acres in the county covered by the plan, with still over 100,000 acres of habitat yet to be preserved under the life of the plan.
---
Contact, Joel Kramer joel.kramer@rcdsandiego.org
Organizers: 4J Horse & Livestock, RCD of Greater San Diego County, CA Department of Fish and Wildlife, CA Rangeland Conservation Coalition, University of CA Cooperative Extension
Hosted as part of our CA Dept of Food and Ag Healthy Soils Demonstration grant, which has funded the fencing of pastures and prescribed grazing practices for Rancher John Austel on the Rancho Jamul Ecological Reserve, After three years of monitoring, learn about this project from all angles – how it got started, the benefits to the ranch ecosystem and to fire prevention, and how to create your own grazing management plan.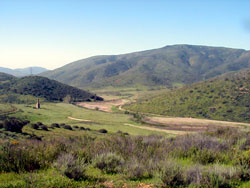 Thank you for becoming a Coalition Sponsor or Donor!
---
---